Next is an very interesting custom- a guy put an Indian Scout engine into a little Harely Hummer (came stock with about a 165 cc engine if memory serves.) This would have been alot of fun to ride with the reduced weight.

Next is another bobber 1930's Scout, then in light blue, a photo courtesy of Zippy Lowson, showing a West Coast Scout bob job. It looks fairly stock except for chopped fenders and upswept exhaust.

Next, seen at the Rhinebeck NY AMCA meet in mid June 2013 was this 1928 Scout 101 customized with electric starter, turn signals, mechanical parts from earlier and later years, 1948 Chief fenders modified to fit, etc. Note all the useful gauges and idiot lights on the dash. This bitza is owned by Butch Baer.

Below left is a 1940 Sport Scout hillclimber blasting up Mount Douglas (Victoria B.C.) in 1945, ridden by the late Bob Shanks. Note the magneto under the seat instead of generator extending to the front of the primary case as on regular Scouts. Indians were popular hillclimbers in the 1940's and 50's, before the OHV BSA's, Triumphs and Sportsters took over. Compared to a sidevalved Harley, a competition Chief or Scout was more powerful and lighter. Hillclimbing is as much about skill and raw guts as it is power, so Indians were still doing well in hillclimbing into the 1970's. If you've never watched a hillclimb, treat yourself. It is the most exciting form of motorcycle racing to watch. To the right of it is another hillclimber piloted by Laughing Indian Riders Club President Don Doody. (Latter photo courtesy Allan "Zippy" Lowson.) I am not sure but I think this was in the mid to late 1980's.
In 1940 the Chief style fully valenced fenders were installed on the Scouts and Sport Scouts, but not the new Chief plunger rear suspension. I also learned that the Scout transmission was different from the Chief (despite both being hand shifted three-speeds), and that one can install a Chief gearbox into a Scout.
Here are 2 shots of a nicely restored 1941 Sport Scout (light green and cream)
Below are two shots I took some years ago of another 1940 or '41 Scout which is stock except for the paint job, Harley style air filter cover and a bit of extra chrome. The whitewall tires were likely "period accessories".
Next are shots of three recently restored (perfectly stock) Scouts, all 1940 vintage. One is orange, one blue and one olive (military color but glossy). The olive one is a Sport Scout, with a magneto. (I really doubt any actual army models were Sport Scouts.) For the orange one we see a closeup of the generator and a closeup of the ignition coil, battery, tool box and seat springs. These bikes were on sale on Ebay.
Below are a Left and Right view of Marilyn Crawford's 1941 Scout at the Old Bastards VMC rally in Sept. 2013. Marilyn and her husband Fred (on his 1947 Chief) rode the bikes across Canada a few years ago for a charity event, averaging 400 miles per day!

Below are two shots of an unrestored 1941 Sport Scout in faded Sea Foam Blue paint on Ebay Oct. 2013:

Because of a combination of "isolationist" (why get dragged into a foreign war?) plus pro-German sentiment (including speeches by Charles Lindbergh) in the US, America did not enter the European theater of WWII until it was half over (in Europe, the Brits with the aid of their Commonwealth countries and volunteers from Poland amd some French guerillas had been bravely holding off the Fascists since 1939 - the air Battle of Britain was crucial - and so "thanks' to the Japanese attack on Pearl Harbour in Dec. 1941 which lead Hitler to declare war on the US, the US did not really enter the war until the beginning of 1942.) So in this site WWII refers to 1942-45, with apologies to British, Canadian, Australian, New Zealand, South African, French and Polish readers as they were all bloodied by Nazis before the beginning of 1942. (By then Nazi subs had sunk many American ships but the head of the US Navy pretended it never happened and refused to order convoys and light blackouts on the Atlantic coast and the Gulf of Mexico - thanks to him many hundreds of American merchant mariners were killed and millions of tons of supplies, perhaps including Indian and Harley motorcycles, bound for Britain were sunk very close to the US coast. The British had to send destroyers to escort the US ships, while many American warships sat idle in port, all due to the policies of one stupid and chickenshit Admiral who should have been fired and tried for treason.)
Below are typical WWII Indian models based on the civilian Scout. Model 741 means 500 cc built from 1941 thru 1945, 641 means the 750 c.c. version. (The muffler on the first bike is too short.) Not shown on this page are the Chief versions, e.g. 341 means a 1200 cc. built 1941 - 45, which I have seen here in Canada a few times and which it turns out my Dad rode. (When France fell, a shipload of Chiefs destined for France were unloaded in Nova Scotia and expropriated by the Canadian army, and still have their metric speedometers which is handy since Canada went metric around 1975.) Circa 1939-40 the Canadian army ordered Indians (mostly Scouts and a few Chiefs) but the Scouts turned out to have quality control and reliability and "rapid parts replacement" issues so after a year or so Harleys were ordered. Another Milwaukee v. Springfield victory. Another reason Harley profited from the war while Indian did not.
So over a period of about four years many Harley-Davidson V twin flatheads were built for the Allied forces, almost all of them 750 cc models based on the civlian model. W (not really standing for "war" as it predated the war but it turned out that way) was the model number for the civilian model, hence the WLA ("A" for American or Army) was built for the US Army mostly in 1942, and WLC for the Canadian Army mostly in 1943. ("C" for Canadian) One difference between the WLA and WLC was that on the WLC the front and rear brakes were the same and could be quickly interchanged. Another difference (that I only confirmed in 2014) was that most of the WLC's had (installed by Canadians after the bikes were delivered from Wisconsin USA) a lever and cable operated hand actuated clutch like English and all modern bikes instead of the foot treadle; however the shifter remained on the L side of the fuel tank and no further modifications were made by Canadian mechanics; meaning to change gears you pulled in the left lever and rolled off on the right throttle and reached across with your right hand to operate the shifting lever. (I guess it took three to five seconds to change gears this way as I have practiced using a clock.) I know this sounds "stupid" and in-credible but my Dad insists he rode that way in the War and an expert from the Canadian Vintage Motorcycle Club has confirmed this with me. Seems to me they could have left the clutch treadle in place so that once one was accelerating and ready to shift out of first, or downshifting into first when de-celerating, the foot cltuch and left left hand could have been used to shift out of 1st gear or into 1st. (to avoid reaching across and down with the right arm) I forgot to ask these two men if the front brake lever was still on the left (as per WLA and typical American foot operated clutch MCs) or had been switched over to the Right side which is common on modern bikes where there is a clutch lever on the left. Presumably not wanting two levers interfering with each other the brake was moved to the right. . So that would be a third difference between the WLC and WLA. According to the expert, yet another difference was that the WLC's had passenger footpegs mounted just behind the rider's footboards and another set further back and a padding on the rear fender carrier so that two passengers could be carried. (Rider on tank, 1st passenger on seat, 2nd passenger on carrier bolted to top of rear fender) Apparently Canadian MC riders got so used to this they always sat far forward, basically atop the fuel tanks. Having seen the extremely low power of WWII Harley and Indian 500 and 750 flathead engines it is hard to believe they could have carried three people, but I suppose slow acceleration and a top speed of 30 miles per hour (50 or so with no passengers so I assume 30 or so with two) is better than walking. Visit this website every few months for more details on the WLC. Beware of mongrel WLC/WLA cross-breeds if buying. When my father was stationed in Ontario the Canadian army had Harley WLC's, Indian Chiefs (that he rode) and British Nortons (he recalls). I lost a great photo of him starting a WLC. The performance of those low tuned machines was similar. He would race a Norton and a Harley to the Quebec border (where alcoholic beverages were cheaper) on his Chief and he never had to buy beers, but now at age 91 he confesses he bribed the base mechanic to secretly tune the Indian. I misplaced the notes I took when talking to CVMG historical expert, author and retired marine biologist Al Johnson but when I find them I will provide a bit more detail on the WLC, (Al is a Brough Superior historian, owner and rider.)
Incidentally when the Nazis conquered most of France, they expropriated the Indian Chiefs that the French army had aleady received and online there is a photo of about twenty Wehrmacht troops riding French Indian Chiefs with sidecars. Must have seemed interesting and a bit crude to them after their shaft drive 4 speed plus reverse R75 BMW's. Other than WLA and WLC, perhaps there was another suffix for WL for another country? Maybe a WLF for France, and WLSA for South Africa, a WLNZ for New Zealand and a WLOZ for Australia since WLA was already "taken"? Or did those nations just get WLAs? Does anyone who has a WL in those countries know about this? In the British Army they used their own Matchless and Norton and BSA 350 c.c. singles, along with a few Indian models for the Air Force according to a Classic Bike article. Note the shots I took at Oley in 2012 show a model 641 or 741 with the rifle holder on the right of the fork, a metal box on the left fork (for ammo, medical supplies, maps?) and a mesh covering the distributor. This was standard Army equipment. The last four shots in this cluster are of a 641 restored by Jeff Grigsby of Indian Motor Works, offered on Ebay in very late 2012. I suspect the white color of the seat is incorrect as is the metal corrugated flexi-hose over the exhaust pipe headers, but otherwise an impeccable restoration.

Just to give you an idea of how much work and skill and time and money and parts are required to restore an old motorcycle (or car or airplane), here is a shot of a 641 engine that needs restoring. Compare it to the close up of the restored engine just before it. It appears that on the unrestored the carburetor is hanging out from being the rear cylinder (it is supposed to be between the cylinders and should be invisible from this side.)
After WWII there was a plethora of ex-military vehicles for sale cheap, and many trucks, jeeps and motorcycles were bought as war surplus (cheap) by civilians, and put to work. They were all repainted from the olive drab or khaki (or dull gray or blue Navy or Air Force colors) into bright civilian colors. Indian motorcycles tended to be painted red. Most of the trucks seem to have been worked to death and expired but the MCs tended to last. In the UK and New Zealand there are still a lot of these old 500 and 750 Souts running . A typical example is what is seen in the photos below. In Nov 2014 an American bought the bike below from NZ and exported it to the SW USA and then put it on Ebay. It is a civilianized US Marine Corps Scout (listed as a 1941, a model 741 meaning 500 c.c.) Although civilianized he says it still has the blackout lights. $15k was the reasonable asking price for this piece of mobile history and riding fun.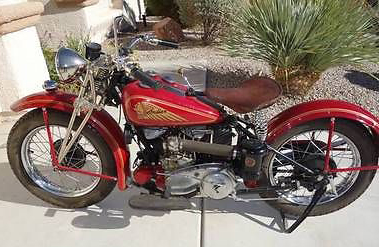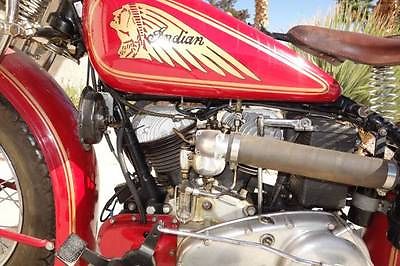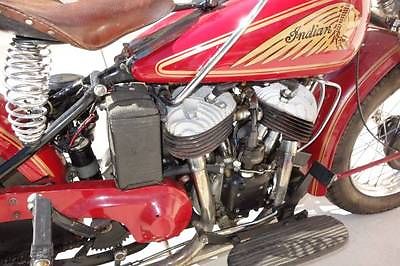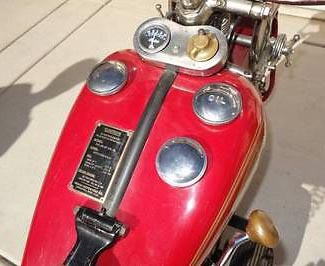 Below is a sixteen year old photo of one of Harold Carlaw's restored Army Scouts. My daughter (who was then aged 2) and I (who was thinner then) had a brief ride in the sidecar. It was fun. My only time in a "chair". The second shot shows the rig in front of the Memorial War Museum which is another good reason to visit Campbellford, Ontario, Canada; although I've heard that it is only open part-time now so best to phone for an appointment.
On the topic of military Harley 45's, lately there seem to be a lot more WLC's than WLA's advertised for sale or shown in magazines in the USA than before. Previously one never saw a WLC. Obviously these were exported from Canada, South to the USA. Did the WLA's tend to get scrapped or turned into ugly choppers? According to an interesting YouTube video:
http://www.youtube.com/watch?v=Om2V8pKXodI
which has many WWII photos of US Army Harley 45's, there were 60,000 built as WLA and another 40,000 as WLC. The text of the video is in French but even if you can't read French it is worth watching - lots of photos of WL's taken in France after the D day invasion and until war's end. A great resource for restorers of army 45's.
Harley fans may be interested to learn that before the US entered the war there was a civilian WLD which had more power. (Military engines are detuned for reliability and mileage, and by law during the US war era 1942-first half of 1945, no civilian motorcycles could be made except "essential use" such as police, MP (military police). Harley also made an better breathing WLDR and later WR full race model, probably postwar. In their Servi-Car tricycle (which first appeared in 1932) they used an R engine until 1937 (total loss oil system) then a W or G engine until 1973, which was basically a WL with cast iron heads and less power. The Harley "45" resumed civilian production postwar and lasted until 1952, using, I think, a WL engine. Hot rodders and racers postwar sometimes used Indian Scout pistons and/or Chief flywheels to increase bore and stroke. See video below of a 1940 Scout done this way.
Here are some YouTube videos copied on 30 Dec. 2012. First is of a guy starting and riding off on a 1941 Harley WL painted in desert sand color, and second is a guy starting and riding off on a civlian Harley 45. Then is a 1942 civilianized Indian 741. Then the "Chout" bobber. Looks great, sounds great, goes around the corners fine and only weighs 370 lb.

Below is a shot, courtesy of Zippy Lowson, of a postwar Scout hillclimber with Edison-Splitdorf magneto driven off the top of the oil pump and the usual traction chains on the rear wheel. The aluminum cast wheels suggest this was being used as late as the 1970's or later.
Next is a photo of the Laughing Indian Riders MC racer, circa 1995 from the now-gone Westwood race track East of Vancouver. Note the AMC (Norton) gearbox and front brake . It was ridden by Alan "Zippy" Lowson.

Below is a photo, courtesy of Zippy, of George Routelier's early flatracker Chief. Compared to modern flat trackers, this is a ver ylong machine.

As discussed above, during WW II the Allies used lots of Harley 45 CID (750 cc.) and Indian flathead V-twins of 500 - 1200 cc (30.5 to 74 CID) displacement. (My Dad rode a Chief, which in the Canadian army was likely called a model 340.) The rare Indian 841 was a transverse rather than in-line V, with other Moto-Guzzi-like features such as shaft drive and foot shift and cylinders at a 90 degree angle, but the barrels and head were not new and were from the 750 Scout. The 841 never saw action and only about a thousand were built. Much more common were the model 741's of 500 cc and the model 641's of 750 cc. (Confusing, as one would expect the 642 to be a 600 cc. built in 1942 and the 742 to be a 750 built in 1942, but Indian seemed to lose its logic during WW II and never recover from it. It was likely the only US company to lose money instead of make big profits from selling equipment to the military.) In Western Europe, especially England, and in New Zealand and Australia one finds many 741's still running around. In New Zealand there is a big racing scene around them. There are also a lot (relatively speaking, meaning "a few") of army Chiefs in North America. (Compared to the Indians, ex-army Harley 45's are very common.)
Below left is a 1940 Sport Scout I saw at Oley Pennsylvania in 2005. I assumed it was a non-runner. To my surprise not long after I took the photo I saw it running around the rally site sounding strong and perfect, starting easily, never missing a beat. Goes to show you can't judge a book by its cover. I saw several other slightly beaten up unrestored "street fighter circa 1945" style Chiefs which turned out to run fine too! Seemed the owners of these "beaters" were having more fun, certainly getting more riding, than the $25,000 over-restored trailer queen bikes. In their day Indians were work horses, like pickup trucks, with riders putting on many miles and expecting reliability. The thing with old Hogs and Injuns is if used regularly they run much better and trouble-free than when used infrequently. (Come to think of it, same applies to the human body.)
Compare the unrestored 1940 Sport Scout bike above with the restored one below. Further down is a 1940 Scout which has been chopped. :

After the war and to this date, Ozzies and Kiwis have been "civilianizing" the 640's and 741's, prettying them up and in the case of the 45 inchers, which were detuned Sport Scouts, converting them to Sport Scout specs. (As noted above, the Sport Scout came out in 1934 to replace the 101 Scout. The Scout got more finning and skirted fenders in 1940 but not many were produced in 1940 and '41 and production of civilian and military Scouts ceased around 1944.) Another hop-up trick is to use Chief 74 inch flywheels and rods in the Scout, to make a 950 cc. Chout. (Wonder whether 80 inch Chief would also work, or even the new 84 inchers made by Kiwi? Obviously you'd have to put base spacers in to lengthen the barrels. Then the intake manifold might not be long enough as the heads would be further apart. Meanwhile the heads would be sitting so high they might foul the fuel tank or not clear the frame. Such is the fun of modifying a motorcycle.)
Many Indian riders were irate that there was no V-twin flathead Scout for sale after the war. Privately owned Scouts continued to win races for many years after the war. Some privateers put Chief flywheels in to get 950 c.c. (57 CID) and a lot more power out of their racing or souped up street Scouts, and these "Chouts" are still valued today. The factory did relent somewhat in 1948, but only for racers, by producing 50 racing Scouts stamped FDH, but commonly known as the "big base Scout" or the "648 Daytona" as Daytona was where most were raced. (This proves that Indian had the ability to keep making Scouts after the war, and it was a management decision to stop just before 1949 when the "torque" models went on sale.) The model 648 big base Scouts performed extremely well in their class (Class C) and continued to win races for the next six years! In fact at various other types of races across the USA, racing Scouts continued to do well and even win up to the 1970s! Their demise (other than being many years old by then) was likely due to the Harley K model and British twins such as the Norton, Triumph and BSA.


Above right is a photo of Jerry Chinn's Indian flat trackers. I think this photo was taken in the late 1990's or early 21st century. Racer number 13 is a Big base 648. Enthusiasts make reproduction crankcases and other parts for the model 648, attesting to the merits of the design. If you think an Indian 750 cc flathead is wimpy like a Harley "45" (750 flathead) you should hear these racing Scouts being warmed up in the paddocks at the annual AMA Vintage days in mid-Ohio. Music to the ears! Imagine how many more years these 648 Scouts and privately souped up Scouts could have won races if they had had a four speed footshift gearbox like the British bikes instead of the ancient 3 speed hand shifter. Of course part of the success of the V-twin Scouts was the riders who raced them: Ed Kretz, Floyd Emde, Johhnny Spiegelhoff, Ted Edwards, Art Hafer, John Greenlee, Jack Horn, Bill Huguley, Bob Holt to name just a few.
In retrospect it can be argued that Indian made a big mistake by dropping the V-twin Scout. It was a popular model and its "high tech" replacement the OHV but miniscule Warrior was a flop. Indian could have easily converted the 45 CID flathead Scout to 57 CID (950 cc) using Chief bottom ends, and used the military 841's frame, to keep them competitive for a few more years. Harley did not come out with its OHV sports model until 1957.
---
Post War Scout / Warrior parallel twins
In 1945 with the war over, Indian gave up on the V-twin Scout as obsolete, and spent a few years and all of its money developing the OHV "Torque" series designed by Chief Engineer Briggs Weaver. The Torque series was modelled after British designs, and came onto the market in 1949. Harley also copied the British about three years after Indian tried, but Harley did not use a parallel vertical twin engine and kept to its tried and true (and popular) V-twin engine design. It brought out a new flathead 750 in 1952 (the K). Like the new OHV Indian twin sport bike, the K too was also a poor seller initially. It had gearbox problems and was far too slow to compete with the British. The gearbox was gradually improved and the engine size was upped by about 140 cc to 888 cc for the 1954 model year. As the power increased, so did sales. This KH evolved in 1957 into the OHV Sportster of 883 cc which is still a big seller.
After WW II Indian tried to make its own version of a typical English twin (e.g. Triumph) and called it the Scout (in 1949). The engine was a parallel vertical twin (2 cyl.) OHV with British type gearbox and controls. The bike looks completely English except that for some reason the primary drive was on the right side instead of the left. However these new bikes were rushed into production for the 1949 model year (to replace the Chief which had been dropped as "obsolete" for that year) with countless problems unsolved and the new Scout only had 440 cc and was a big flop. The third reason it failed was that the relative currencies of the US dollar and British pound sterling has changed, so that English bikes were quite cheap and the Indians could not compete price-wise. Dealers were irate and the Chief was re-introduced the next year (1950). By that year most of the problems with the Scout had been solved and the engine upped to 500 cc (30 CID) and the bike renamed Warrior but the bike had established a hopeless reputation and was still not a good price compared to Triumphs, BSA's, Nortons, Matchless, AJS, Royal Enfields, Ariels and Panthers which were being imported from Britain. The last few were made in 1952. When you see these bikes in real life they are quite small even compared to their British cousins.
Below are two shots of a maroon Scout, then (below) a stock black one with (to its right) a black chopped version (actually a rare 1950 Warrior). Underneath is a pretty yellow 1949 Scout, followed by three shots of a very rare red-orange 1952 competition model. Max Bubeck used to successfully race one of these and actor James Dean bought one. The red-orange Bubeck replica was superbly restored at great expense by British Motorbikes of North Hollywood. I have never ridden a postwar Scout or Warrior but I wonder if the location of the oil tank causes burns to the rider's left thigh on hot days?
Next are four shots of a nicely restored 1949 Scout. You can read about these ill-fated vertical twins in the Indian History paef of www.IndianChiefMotorcycles.com. (click on the thumbnail sized image for a larger image in a new page)

---
Sammy Pierce Specials
Here courtesy of Cycle World magazine are two 1968 photos of the prototype of Sammy Pierce's P-11 (Scout engine in light, rigid frame, Warrior forks etc.) Just under 40 of these were actually made by Sam in the late sixties, plus a couple with Chief engines. Someone sent me a grainy cellphone photo of one of the Chiefs around early 2012 but they did not reply to my email requesting a better photo.
---
Floyd Clymer's 1968 SCOUT prototype
In collaboration with Friedel Munch, Clymer hoped this German made combination of state of the art chassis (for 1968) and 1940's Scout engine would "set the world on fire". Even as a teenager at the time I thought it was bizarre. Due to projected costs being so high only one prototype was made. It still exists and was sold in late 2009 to a collector / full-time restorer of Indians. More photos of this fascinating motorcycles are in www.indianchiefmotorcycles.com, on the "1955-85 era" page.
---
Jumping ahead to about a decade ago when Indians were being made in Gilroy California and there were Scout models, the following road test of one is reproduced with the permission of the copyright holder CANADIAN BIKER magazine (an excellent magazine I might add.) The issue was March 2001. It is interesting that the practical top speed of the new Scout, despite its large engine (88 CID or 1430 cc, being 130 cc bigger than a Chief of fifty years prior), and weighing only 35 pounds more than a 1951 Chief, was around 85 mph (same as my much heavier 1980 H-D FLT) and the comfortable top speed (due to vibration and handling) was only 60 mph. (105 kph). Progress? One would have more comfort on a old Indian V twin since the flathead engines tend not to vibrate, and the same top speed with a Chief or model 101 Scout. Half a century later and no better performance!
Netx is a 2001 Scout like the one in the road test but with a custom paint job and a small sisiy bar etc. Interesting and eyecatching.




Some of the fastest and sweetest looking "hopped up" Scouts are from James (Jim) Mosher in New Mexico. Check out this 58 CID strocker (about 950 cc) with magneto and British gearbox and 1969-70 Triumph/BSA front brake:



Jim even built a twin engine Scout and raced it at the Bonneville salt flats:


For a closeup of the right side of the engines click on the thumbnail image.

CONTACT the webmaster at Scoutmaster