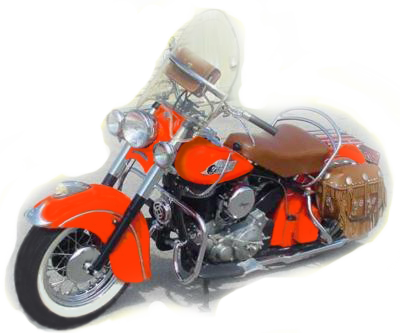 1901-1953 American made "INDIAN" brand motorcycles
An Illustrated History
This page was created in 1999 and updated annually, latest update 8 July 2022.
Designed for viewing on a screen of at least 12", not for cell phones or small screens.
To access the other pages, just click on handlebar image above.
After reading this page, see the other webpages in this site, firstly "More Old Indians" which contains many photos of pre-1954 Indians taken at rallies, Indian Fours and the experimental postwar Fours, trikes and police Chiefs, plus videos of Chiefs being started and run, Also "Before and After Restoration" photos..

Then to continue the history of the brand, see the page entitled "1955-85 era" (also of interest to British bike owners as these Indians were built by Royal Enfield, Velocette and Matchless) and finally "Recent Indians".


Also visit the "Modifieds" and SCOUT pages of this site every few months for new content.

To see my styling designs for custom cruisers using classic V twin and other engines (e.g. Vincent engines in Indian Chief frames, an idea I got in High School many decades before discovering the two factories actually had the same idea before 1950 and made a prototype) check out my other website Custom Cruiser Concepts
Copyright (except where noted) 2000- 2022 by J. Randal (Randy) Montgomery. Photos from Canadian Biker, Cycle World, Classic Bike, Iron Horse and other magazines are copyrighted by them and used here with their kind permission.

READER SUBMISSIONS ALWAYS WELCOME and APPRECIATED. Send to me and if approved for putting on this site you can share photos of your bike and your stories with many thousands of other readers worldwide.By sending in photos and text you agree to release any copyright and grant permission to them appearing on this site for free, no financial consideration to you, Email: RandyandRetreads@gmail.com.
If you like country rock and 1950's rock'n'roll music and songs about old Harleys, BSAs, and classic cars (Oldsmobile, Pontiac, Mercury, Dodge and others) visit RandyandtheRetreads.com
ATTENTION BUSINESSES and advertisers:
Site Statistics AUG. 2014: 487,675 hits, 466,190 files sent; 6,966 cached, page views 16,860. (2014 monthly average 377,000 hits) JAN. 2012: hits 536,894, files sent 513,018, cached 10,546, page views 17,472. Previous high was Nov. 2011: over 365,000 hits. Mostly steady increases since 1999.

So if you sell classic motorcycles, parts for them, biker clothes, paraphernalia, automotive books or motorcycle magazines, etc. shouldn't YOU have an ad on this site? To make it easier for small businesses, rates are cheap, e.g. small display ad only US$80 per year.
HISTORY (with author's commentary)
The original Indian motorycle company was founded in 1901 in Springfield Massachusetts USA, by bicycle racer George Hendee and Swedish immigrant Oscar Hedstrom. Some people wonder why it was called the Indian Motocycle Company instead of Indian Motorcycle Company. In Italy, all motorcycles have names beginning with "moto" e.g. Moto-Guzzi, Moto-Ducati, Moto-Laverda, so perhaps Hedstrom was familiar with that. The earliest Indian models looked like mopeds (bicycles with small single cylinder engines) and only three prototypes were made in 1901. The next year limited production commenced with Indian selling 143 motorcycles in 1902. In 1903 there was full production at 244 machines. Early Indians used engines made by a company called Aurora using a design by George Hendee.
Meanwhile in the UK, bicycle maker (since 1889) Triumph made a prototype motorcycle in 1901 using a Belgian engine installed into a modified Triumph bicycle frame and began production in 1902. It sold 300 of these in 1903.
Also according to Wikipedia Harley-Davidson tested a moped in 1903, offered kit bikes with many externally sourced parts in 1904 and 1905 and did not begin making and selling complete motorcycles unhtil 1906.
So who was "the first"? It seems Indian and Triumph tied for prototypes in 1901, and pre-production in 1902 and full production in 1903. Triumph began making its frames and engines around 1903/1904 but these were copies of others and they did not produce their own designs until 1905, whereas Indian had been using Hendee designs since 1901 albeit made for them by another company until 1906/1907.).
In terms of producing and selling complete motorcycles of its own design with few externally sourced components, the order was Indian first in 1902, Triumph second in 1905 and Harley third in 1906.
But complications are that Triumph did sell 300 machines in 1901 using Belgian engines, a year before Indien went into production, Indian did not make its engines "in house" until 1906, and Harley only began making complete machines in house that same year of 1906. Using these less restrictive criteria , Triumph came first. No matter which of the three brands you prefer you can argue they were "the first", but it is clear that all began serious in-house production of their own designs around 1905 and a year or so makes little difference from a 21st century perspective.
This "Big Three" are still around a century later, while many other brands which started later died off years ago. (However it has not been an easy road. Indian as a manufacturer and designer went out of business in the 1953 and Triumph basicallly failed in 1983, (A few were produced by Les Harris to keep the name alive.) Both brands were fully revived years later by different people and fresh money. Harley was bought out in 1969 and bought back in 1981, and then nearly went broke. As of 2021 all three companies are under financial pressure so let's buy a new one to support them.
A note on internal combustion engine terminology: Flatheads are also known as L heads, side-valve or for cars and trucks, "valve-in-block". (Overhead valves or OHV is a misnomer, best term is "valve-in-head".)

The First Ten Years or So
The earliest Indians were called Camelbacks because the fuel tank was in a hump shape over the read fender and directly behind the rider. The engines were 250 c.c. single cylinder. The Camelback engine was advanced because it was an F head (inlet over exhaust valving). Sort of ironic that their first mass produced model was more advanced in that regard than their last Chiefs of 1953 which were just L (flat) heads. Those very early Indians only produced about two (2) horsepower but Oscar Hedstrom was able to get one up over 55 mph in 1903 and set a world speed record. The motorycle was also advanced in terms of weight reduction and conservation of metal insofar as the engine replaced the frame tube that on a bicycle would have gone from under the seat to the pedal area where it joins the front down tube. Site viewer Buddy Ault kindly submitted this photo of his grandfather E. D. Snodgrass on an Indian "Camelback". Buddy does not know when the photo was taken. The Trev Deeley museum in Vancouver BC Canada kindly emailed me and said they also thought it was a 1906 as they have one on display.
Next is a photo kindly submitted by Ed Gregory of his grandfather also on a 1906 Camelback, at Wincester NH. Luckily only the edges of the 115 year old photo have deteriorated.
The third photo is courtesy of Bob Stromberg and shows his father on an early Indian. The fuel tank is in the traditional position and not over the rear fender, and the engine is no longer a stressed part of the frame, and is likely 500 cc size, so Bob's photo depicts one of the Camelback successors which began in 1909. Wikipedia shows a photo of a similar 1911 Indian so we can assume that this photo is from around then. In 1910 a two speed transmission became available. In 1913 Indian sold about 32,000 motorbikes like these, a feat it woud never equal after then.
The First V-twins
The V-twin engine model of Indian engine went into mass production in 1907 and was called the "Big Twin"..(An early racer prototype appeared in 1905.) Below is a photo from 1910 showing a couple in a 1907-10 Indian sidear outfit.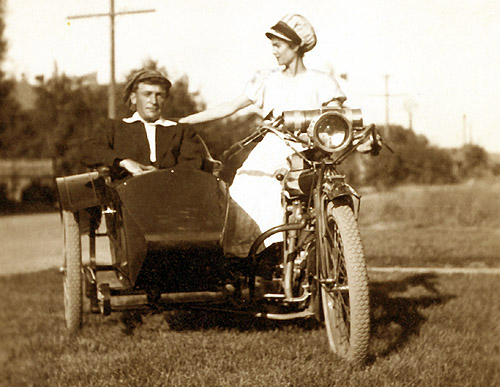 In 1914 Indian offered an electric starter on some models such as the Hendee Special, very advanced, but this feature only lasted a short time due to batttery charging limitations of those early days. In 1914 Indian offered electric lighting so became the first motorcycle maker to offer both electric lighting and an electric starter on some models. Indian was also very advanced with a swinging arm rear suspension (albeit with leaf springs, not coils) from 1913 to at least 1918 (1922 on some models).
Indian's next major development came in 1916 when Hedstrom's former assistant Charles Gustafson developed the 1 litre "Powerplus". It had two valves at the side of the cylinder instead of one (full flathead, replacing the earlier F heads on the singles and Big Twins). It made 7 horsepower. It was produced through 1922.
The middle of WW I (1916) was the first year for the Power Plus, and the first engine not designed by Oscar Hedstrom. Both Hedstrom and Hendee left the company by 1916, being unable to agree.
In 1916 the company also first offered the lighweight model K, single cylinder two stroke of 221 cc with a 3 speed grearbox and chain final drive. This model only lasted one year..
Some Big Twins and Powerpluses were built in Toronto Canada from 1912 and through World War I (up to 1918) and were featured on Canadian postage stamps in summer of 2013.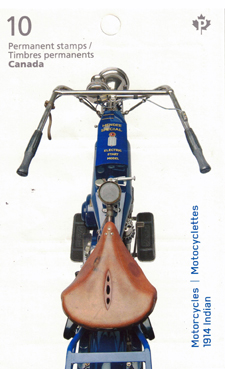 Around the turn of the century (20th to 21st), the building was used as an upscale tavern for downtown office workers having lunch, who seemed to know and care nothing about motorcycles let alone old Indians, (judging from the response I got from customers and staff when I went there to have a look). It was called the Indian Motorcycle Cafe (see image below) and at least had a small display of Indian material in the waiting area and some Indian paraphernalia such as photos and banners on the walls. Sadly the building was demolished in 2014.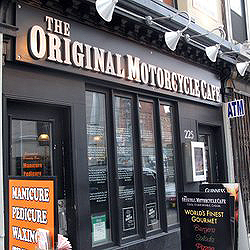 It is not known to this writer if the tavern continues at a new location in downtown Toronto. An intenet search had it at 355 King St. West but Google maps image from Dec. 2020 shows the old Westinghouse building and construction in front of it. Another site shows another location at 225 King St. W but Google photo just shows a large modern building lobby. The phone number I found on the web turned out to be "not assigned" when I tried calling. I am in that area of Toronto fairly often and would have noticed an Indian motorcycle themed restaurant.
Below photos from EBay up to July 2013 show a perfectly restored 1913 Big Twin (seven images), an unrestored 1914 engine (3 views: Left, Right and Top looking down), a 1914 frame, and four shots of a 1915 Big Twin motorcycle from Blenheim Ontario (first two shots show engine closeup). Finally from an earlier time on Ebay a 1918 Powerplus lacking lights, exhaust and some other parts, and its engine.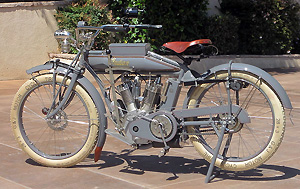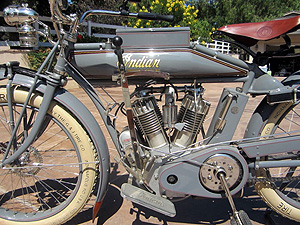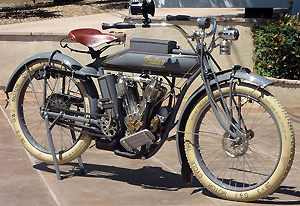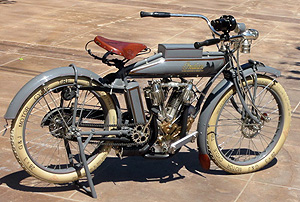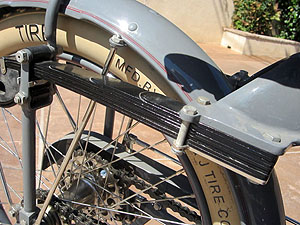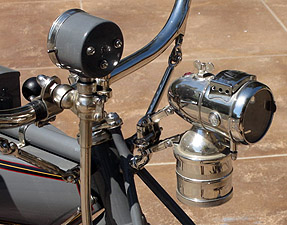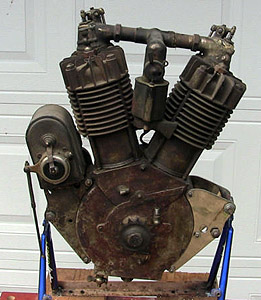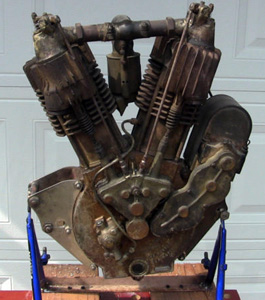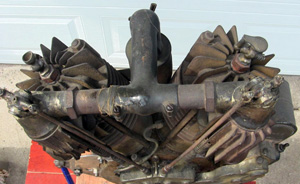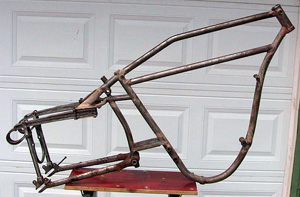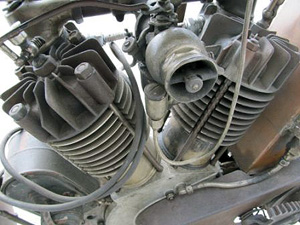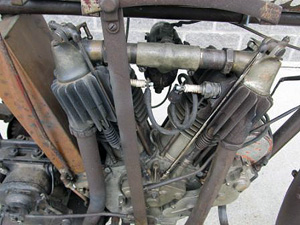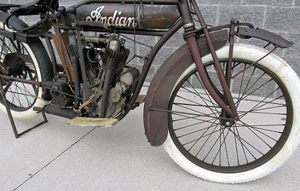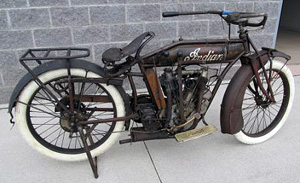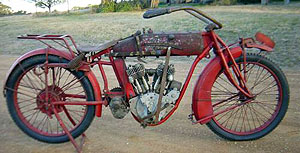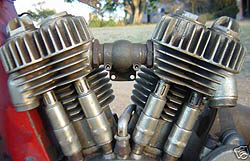 In 1917 the advanced opposed twin model O came out to replace the K but it only lasted two years though 1919.. See photo below. The gearbox is under the rear cylinder. Some sources say this was inspired by the British Douglas opposed twin (although the Douglas had its cylinders at a right angle to the frame like a BMW boxer, not parallel to the frame as in the model O.)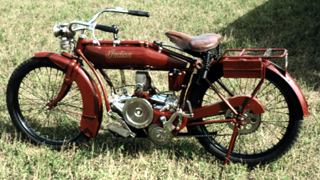 In 1918 the company offered for sale to the public its own new factory racer featuring OHV and 4 VPC (valves per cylinder). This was many years ahead of the competition. Considering that 3 or 4 VPC only began to show up on a few street V twins bikes in the late 1980's and mid 1990's, and Harleys are still built with only 2 VPC, it can be said that this V twin was 70 years ahead of its time. Top speed was 120 mph, but the racers were very light and had no brakes, lights, fenders, suspension etc. The high price of this racer resulted in very few sales and it did not last long.
In 1920, the Power Plus street model was offered in a 74 CID (1200 c.c.) version for sidecar owners.

1920 was also an important year as the Scout was "born" then. Originally it was only 600 cc. (37 CID) but was enlarged in 1928 to 45 CID (750 c.c.) and called the Scout 101.
The 1920 Scout was the brainchild of one Charles B. Franklin. When European sales collapsed after WW I, Charles Franklin, who had ridden for Indian's winning 1911 Isle of Man team, emigrated from Ireland to join Indian's engineering department in Massachusetts. Working with Gustafson's 1000cc Powerplus design, Franklin developed the Scout. Like the Powerplus, it was a side-valve design, but it featured semi-unit construction, with the transmission bolted to the engine (like the Royal Enfields of the 1950's up until around 2010) and driven by an efficient helical gear drive. The Scout became the basis for other bigger V-twins. In 1922, it was enlarged to 1000 cc (1 liter or 61 cubic inches) to become the Chief (see photos below of a 1922 with sidecar, for sale in Jan. 2019). The black solid wheel cover disks were apparently either custom made or an aftermarket offering back in the day.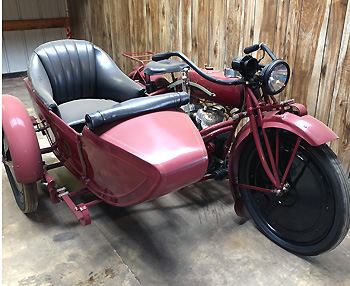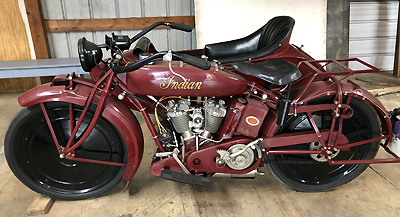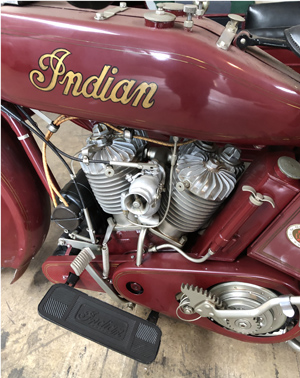 The Chief model came out in 1922, as the replacement for the PowerPlus. (Both were 61 CID flathead V twins.) So 1922 wsa the first year for the Chief and the last year for the Powerplus. In 1923 the Chief engine was enlarged to 1200 cc or 74 cubic inches in 1923 to become the "Big Chief". These early Chiefs had gear driven primary drives in aluminium casings, in oil bath. (English and Harley motorcycles were still using leaky pressed steel primary cases decades later, with chains rather than gears linking engine to transmission; the Ariel Square Four being one exception.) The 1928 Scout 101 (750 cc.) was and is regarded as Indian's best handling if not best-ever motorcycle. It won many races (in its early day its main competition was Excelsior-Henderson) and it and the later Sport Scout was often hopped up for racing and street-fighting with Chief 74 CID flywheels and connecting rods. Ironically, Soichiro Honda rode a 101 Scout for a number of years and it inspired him to build motorcycles, and later the Honda company built cars.

To summarize from 1918, the end of WW I, Indian was in a weak financial condition but continued to produce great models. First the 600 cc Scout in 1920, then the Chief (1 liter or 61 CID) in 1921, the Big Chief (1.2 liters or 74 CID) in 1923 and the 101 Scout (45 cubic inches) in 1928. In 1923 the 250,000th Indian rolled off the line. Below are two shots of a 1924 Big Chief.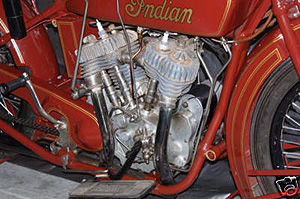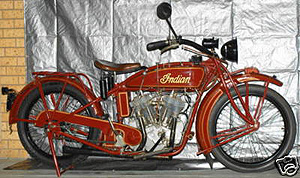 The Indian Four (4 cylinders in a line)
In 1927 Indian purchased the Ace Four, the brainchild of W.G. Henderson, which became the Indian Four. (The first year it was called "Indian Ace".) The first improvement Indian did was to add two more main bearings (5 v. 3). Meanwhile Mr. Henderson hooked up wth the Excelsior company. Neither the Ace nor Indian fours should be confused with the Henderson-Excelsior Four, although all three derived from the same design by Mr. Henderson and thus look similar. Note how the skirted ("valenced") fenders which came out in 1940 completely change the look of the Fours.
First we have a 1941 Four that was restored in the 1970s (the forks have been chrome plated), next to the right is a Four (circa 1940) owned by Canadian Tom Wilcocks, which he racks up huge mileages on annually, and is basically stock.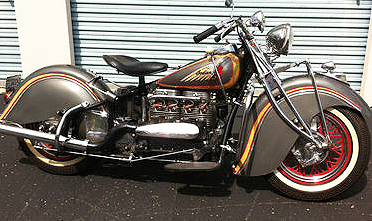 Mr. Henderson designed the Four with an F head and this configuration was also used in Jeeps a few years later. The exhaust valves were below the head and off to the side as in any old flathead or L head design but the inlet valves were in the head as in later OHV designs. The F head made sense as getting the fuel-air mixture into the heads is more important for power and efficiency than getting the burned mixture out. OHV (really "valve in head") inlet and exhaust is best for breathing, plus allows much higher compression ratios. But the F head was at least a significant improvement over the L head. In 1936 and 1937 only, Indian engineers reversed the inlet and exhaust valves, to side valve intake and overhead exhaust. There is no letter of the alphabet to name this and the keyboard has no key for an upside down F so this is simply called the "upside down" Four engine.. It is generally considered a mistake and I doubt any other engine had the same setup. As already noted, the inlet port and valve is much more crucial than the exhaust for breathing and power.
If they were going to go to the trouble and expense of redesigning they should have made it a full OHV. They already had OHV inlet so why not just add OHV exhaust? The only rationale I can think of other than expense is they must have been aiming for cooler exhaust valves and recently I learned that that was indeed the aim. They worried about the heat from the side exhaust valve rising and ruining the cooling effect of the intake mixture above. Another advantage (for all flatheads) is with valves off to the side you can use bigger valves (and ports) so could cram more fuel and air into the cylinder. Flathead engines, even liquid cooled car ones such as the original Ford V-8, were known to overheat, especially in the exhaust area, albeit I have never heard of the old 4 cylinder F head Jeeps having an issue with overly hot exhaust valves and 6 cylinder US cars of the 1950's did not have overheating problems in normal use, but the old Indian motorcycles lacked the major benefit of liquid cooling. Flathead Indian Chiefs get close to 10 mph slower top speed as they get hot.

Customers were leery of the upside down Four and sales were poor so the F head was reverted to in 1938. (It would be an interesting experiment to see how much cooler the exhaust area was in the upside down engine though.) The 1937 Sport model of the quirky upside down Four had two carburetors, which was a very good idea and would have added some power to partly offest the reduction in power due to L head inlet valves. (see photo attached courtesy of former owner Tom "Landshark" - a very cool looking motorcycle.) An ergonomics problem arose though because the exhaust header was high up just under the fuel tank near the rider's thigh (requiring a sheet metal protector box) and the carbs were low down near his feet (updraft carbs) and more prone to suck in dust and rain if not knocked out of adjustment by rider's right foot as he operated the brake pedal. It would be fun to drag race a 1935 and a 1937 Sport model and see which was faster. That will never happen as these old bikes are worth so much money and are very expensive and time consuming to rebuild so no owner would risk an engine blow up due to racing. A dynomometer test would be more accurate but again I expect most owners would cringe at taking their expensive mills to the red line.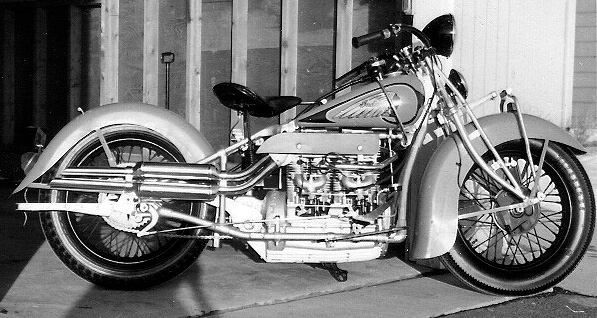 With any multi-cylinder engine, the more carburetors the better for maximum power (but 1 or fewer carbs, usually with smaller diameter or jets, give more low rpm torque, eg. the Ariel Square Four, e.g. a 1960's or 70's English twin.) I assume the same is true of car engines. Most Indian Fours had one carb. It was located at the very back to cool the rear cylinder. (Same location was used on the Ariel Square Four.) The downside is that the front cylinders get a tiny bit less fuel and air mixture. In 1938 the company did a major redesign of the Four, generally considered a big improvement, but they perversely still did not take the opportunity to go to full OHV (it was an F head) nor to increase the displacement, which was always just over 77 CID or 1260 c.c. Nevertheless, the price of well restored Fours has become amazing; over US$65,000!

Famous cowboy singer/actor Roy Rogers rode a 1940 or '41 Indian Four with the valenced fenders. (Roy owned many bikes over the years, including several Indians.) If anyone can provide non-copyright photos of Roy on his Injuns please submit. Next we see two images of a 1934 Indian Four. (Photo courtesy of Cycle World magazine.)
Lots more photos of Indian Fours in the More Old Indians page of this website. A bit off topic: If anyone likes rock'n'roll and country rock songs about motorycle riding or about Old Harleys, here is the link to two of my music vidoes (the sound does not kick in until a few seconds after the images start so don't think they are broken):




The V twin Scout and Chief from about 1925 on
Despite mismanagement Indian survived the Great Depression. Below is a photo from Slovenia, Yugoslavia of unknown date (I'm guessing early 1930's) of a magneto ignition Chief (I'm guessing about a 1929) with unknown riders. This was submitted by Alexis Flanegan. If anyone can provide any more clues as to who these guys were and what they were doing, please do.
Mr. E. Paul Du Pont of paint company fame became President of Indian in 1929 and this was the beginning of a period of good management, profits and the beginning of multi-tone paint jobs of high quality on Indians. Meanwhile Indian and Harley riders continued to compete on the race tracks so in 1934 the Sport Scout came out as a replacement for the 101 Scout (really just an improved 101 in a heavy frame). For more photos of Scouts visit www.indianscoutmotorcycles.com by clicking the link on the handlebar image at the top of this page. Shown below is a 1930's Indian Chief, seen at the Paris Ontario rally of the Canadian Vintage Motorcycle Group circa 2003. Also next to it another restored 1930's Chief, in dark red and cream, seen at Oley PA AMCA meet May 2012. Then a red 1935 Chief listed in Hemmings in Oct. 2019.Then several shots of a funky 1938 orange colored Chief that was offered on Ebay in 2012 or '13. The latter two bikes have 4" X 18" tires while the first (black) one has the 5" X 16" tires that become popular after WWII.
As mentioned earlier in 1918 Indian brought out racing models with OHV and 4 VPC (valves per cylinder), and about 15 years later (early 1930's) they built some OHV hillclimber engines. They also tried the 1930's OHV engine in a car of their own design but hardly any were sold. Had Indian kept using electric starters, OHVs and 4 VPC, they might well have been far ahead of their competition in the 1930's, 40's and fifties.


In 1940 Indian came out with its plunger rear frame on the Chief and Four (and I have seen some 1941 Scouts with it), and the famous skirted or valanced fenders (for both Scout and Chief and Fours). 1941 was the last year for the civilian Sport Scout, so valenced fender Scouts are only 1940 and '41. The Sport Scout engine got a lot more finning. I have never owned or ridden a Scout and have received conflicting answers on whether the Sport Scout used the Chief gearbox. I think they were similar and shared some parts, probably the actual gears and shafts, but were not identical externally. The Four was basically out of production after 1941 but a handful of 1942 or even '43 models seem to surface occasionally, probably were "Essential Use" ex-police. From Youtube here is an unrestored 1940 Chief being started.
Here are some prewar Chiefs that I shot at Paris (Ontario, Canada) at the annual CVMG rally June 2014. Note how the dull green pre 1940 one (with chromed front end, and alternator instead of generator) looks so long and low compared to the early 1980's Yamaha XS650 behind it.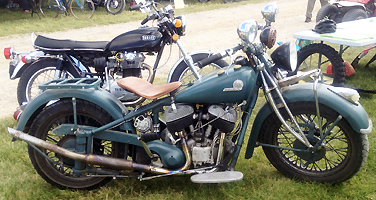 The yellow and black Chief appears to be a 1940 or '41, denoted by the valanced fenders.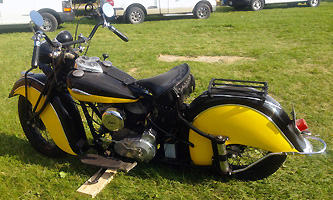 Then here are some 1946 to 1948 Chiefs I shot at the CVMG Paris Ontario annual rally June 2014. These are typical of Chiefs one would have seen back in the day, not over restored or accessorized.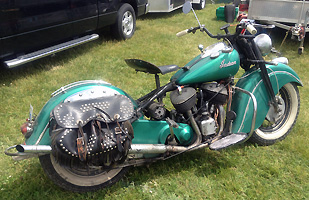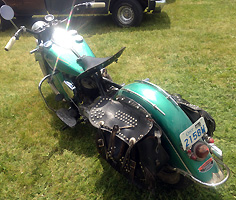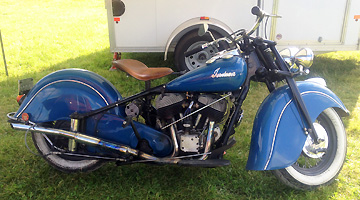 Next is a tastey 1948 "peaches and cream" colored Chief from Ebay July 2013; with a lot of chrome and polishing and two tone paint and white leather seat that is slightly over-restored but gorgeous.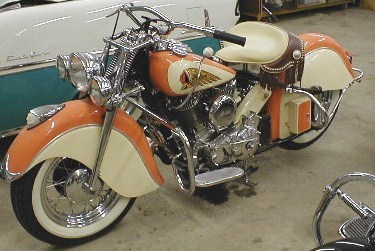 Then we move ahead to 1950-53 Chiefs: the black and yellow 52-53 was on Ebay recently and the blue one I shot at Campbell River circa Y2K when Charlie Mahoney was still alive and hosting that meet.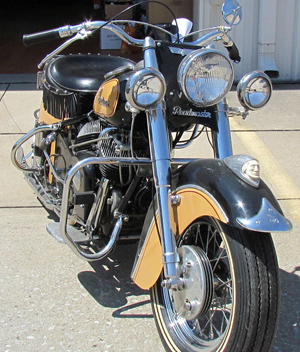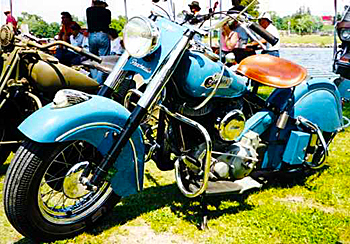 To join the club (Laughing Indian Riders) to get monthly news in a very entertaining newsletter/magazine full of info about events, tech tips, photos of members all over the world, rare Indians etc. and be able to buy merchandise and back issues of the newsletter, here is the application form. You need to mail a check, being an antique club we are not yet set up to take online payment. Cost of stamp from US to Canada is $1.20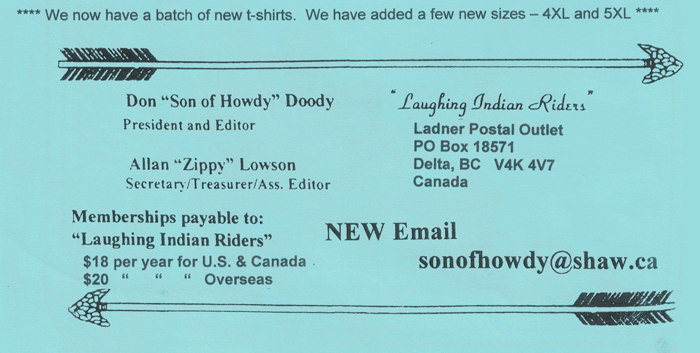 Here is an ad for the club paraphernalia (merch):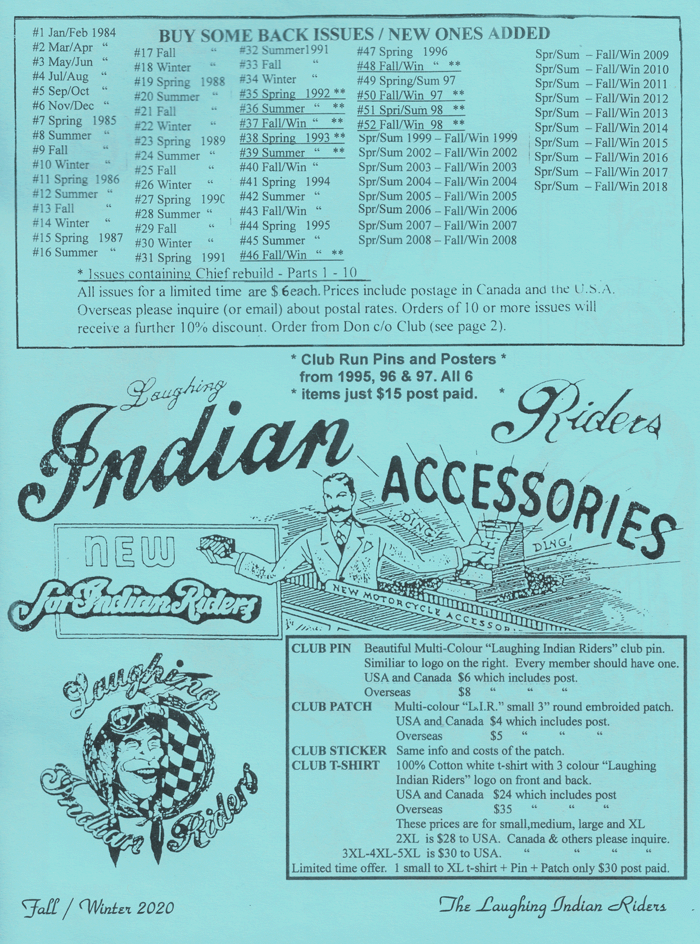 WW II
Scouts and Chiefs in the Army
During WW II Indian made a detuned Sport Scout for the Allied armies called the 640. (Six refers to the model Scout and 40 to the year of manufacture, Three refers to Chiefs, e.g. a 341 is a 1941 Chief.) Bikes in photos below are 640, 643 and 644 models. Indian also made many model 741's (30.5 CID or 500 cc, made in 1941), slow as molasses but reliable. For those interested, reader John Neuenburg provided the following info on how to distinguish between the 500 and 750 cc military Scouts:
Indian 741 (30.50 cu. in.) versus 640 (45 cu. in.)
741: side-opening tool box, luggage carrier centered over axle, straight exhaust, center stand is near axle and fastens to a bracket on bottom of fender, speedo by headlight – front wheel driven, cylinders have five fins below head, horn near front cylinder.
640: top-opening tool box, luggage carrier aft of axle to clear tool box, vertical tube in rear frame triangle, curved exhaust, center stand under transmission, speedo/ammeter/ switch in nacelle between tanks – rear wheel driven, cylinders have six fins below head, horn above headlamp.
Below is a model 741 (500 cc). (Further down are photos of 641's (750').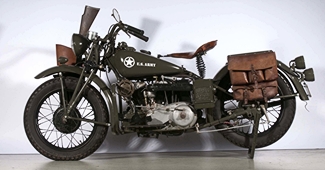 .
John also explained:
Regarding military model names, the government didn't like model numbers/names and serial numbers that gave away the year of manufacture, which could give the enemy a better idea of production volume. So the Indian 45 inch bikes they started ordering in 1940 were 640 models and that number was used on their data plates and serial numbers from then on, where civilian bikes were 641 in 1941, 642 in 1942. Harley's military model number was frozen in 1942, so all military machines had a serial number prefix of 42WLA or WLC.
During the war Indian made about 33,000 military cycles compared to about 50,000 or 90,000 by Harley (depending on who you read). Harley not only sold more but their contract provided that they earned more per unit. Instead of profiting by the war like so many manufacturing companies in the US, Indian lost money! Typical US Army models shown below - more photos of civlian models of the Scouts in the Indian Scout website (access via Handlebar at page top). Many of the smaller 500 and 750 c.c. models remain in the UK, Europe and Australia and New Zealand. In civilian terminology, the smaller 500cc models were called "thirty-fifties" or "Junior Scouts" or "Pony Scouts". If you are interested in the similar Harley-Davidson military and civilian 750 flatheads, see the Scout page of this site for info on them.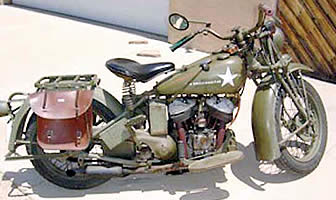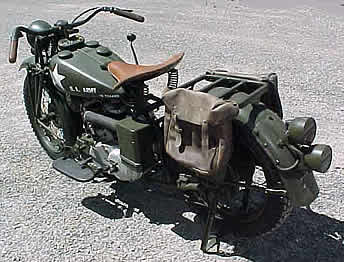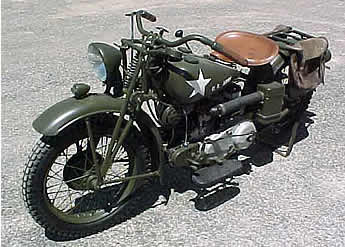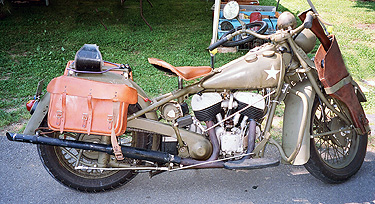 Next we have a You Tube video of a US army Chief called a 340B by the army, which is just like the last bike in the still photos above (probably a 341, photo taken by me at Oley PA in 2012).

Many 30.5 CID and 45 CID Scouts (740's and 640's) and some 74 CID Chiefs were sold to the American, Canadian, Australian, New Zealand and British military during the war. (Back in the 1960's I saw an ex-French Chief in the 1960's North of Toronto Canada; it had a metric speedometer.) Last photo above shows a U.S. Army Indian Chief with rifle, photographed by me at Oley PA in 2012. My Dad rode a very similar bike in the Canadian Army when those machines were new.
The Model 841
No Indian history is complete without mention of the advanced military 841 model. Sadly only 1000 were made and barely a handful saw combat action before the US Army decided to order huge numbers of Jeeps instead. The 841 (and similar Harley XLA which suffered the same fate) copied the successful German BMW army motorcycles including shaft drive and 4 speed hand clutch/foot shift. (The Harley looks a lot like a 1940's military BMW, while the Indian 841 looks more like a late 1960's and up Moto-Guzzi because it was a 90 degree V instead of a 180 degree flat or "boxer" engine layout.) Why Indian and Harley did not use these advanced (for 1941) bikes as postwar civilian models is a mystery. The ad below from Dec. 1943 issue of Popular Mechanics suggest that at least some folks at the Indian factory were thinking along these lines. But perhaps there is no mystery as there was such a pent up surge of demand for vehicles in the US after WWII ended that car and MC manufacturers could sell anything that ran, so high-tech improvements made no sense from a business perspective. The postwar vehicles were virtually the same as prewar (Ford, Chrysler, GM, Studebaker, Packard, and Hudson and even Crocker motorcycles had converted to making military equipment during the war so had nothing new to offer, but buyers were happy to get whatever was offered. Similarly Harley and indian offered 1946 models very similar to their 1941's. However by 1949 the demand was filled and buyers began to want improved and newer looking vehicles, which was what caused the smaller car makers to start to fail, most failing or nearly failing around 1952/53 (same period Indian failed) and inspired Ralph Rogers to cancel the flathead V twins for 1949 and devote all the resources to the new "Torque" models.

As the postwar demand surge tapered off in 1948, Indian spent millions designing and building a brand new series of modern singles and parallel twins which appeared in 1949. This was all Ralph Rogers' idea but the money turned out to be totally wasted as these imitation English designs flopped for reasons explained further below. Also the currency difference between US and UK money changed around 1950, making British products very cheap, so buyers flocked to Triumph, BSA, Norton, Matchless and Royal Enfields. In retrospect it would have been smarter for Indian to have spent the money on an improved model 841. The 841's apparently only had two flaws: the transmission was not reliable (time and money could have cured that) and not syncro-mesh; and since the bike weighs almost as much as a Chief (about 550 pounds), with only a 750 c.c. flathead engine producing (I'm guessing) 25 horsepower, acceleration and top speed were sluggish. (However the design is ideal to convert to twin carbs for a few more "horses" and could not Chief top ends and a longer stroke been added? This would have solved the power problem.) Nearly all bikes and cars in the 1945-60 era were prettly slow anyway. Certainly the BMW's were slow even with their OHV but small displacement engines, and it is not as if Indian needed a fast bike to compete. Both the BMW and Indian 841 had shaft drive which is important for long distance touring. Imagine a parallel universe where Indian competed with BMW R50 and R-60 series and taken a share of that market! This would have allowed Indian survival and prevented BMW and Harley from hogging the 1954-70 touring market. The idea of salvaging something from the 841 must have occurred to somebody in managment because at least Indian used the 841 fork in its 1946-48 Chiefs (with slight modification). Note on the 841 the remote oil tank under the seat, giving more room for petrol / gasoline in the stylish fuel tanks. This would have been a great idea for the Chiefs. The 841's plunger rear suspension offers an extra couple inches of travel compared to the Chief's measly 1.5 ".

After the war the Indian Motocycle Company had a surplus of unsold model 841 army machines and sold them to the public for $1,000 each. That seems low but is close to $13,500 in 2020 dollars. In the "Modified" page of this site are photos of custom civilianized 841's.
Here is an interesting side note. The US War Dept circa 1943 held a competition for a mini-jeep, a lighter one 4' wide and 9' long that could carry soldiers and other equipment and supplies after being parachuted down behind enemy lines. A few companies applied. One competitor Willys (who made the original Jeep) used the Harley XA (BMW copy) engine and Chevrolet's version (see illustration below) used the Indian 841 engine. However it apparently could not handle the weight (a little over 1000 pounds unloaded) of the rig and carry it at 50 mph for extended periods. The engine reportedly failed after only 3,200 miles. (To pass it should have lasted over 10,000 miles.) The Harley powered Willys also broke down as did the other entries so the competition was cancelled. Today's huge V-twin engines would easily pass, but would need to be liquid cooled.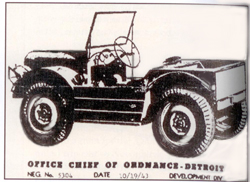 The WELLBIKE / CORGI / PAPOOSE Mini-Bike
In one of the main North American aboriginal tribes the word "papoose" was a kind of back pack mothers used to carry thie babies around in. Probably the frame was made of branches and it was covered in hide and blankets to keep the child warm. An appropriate word for the WWII Indian mini-bike which was so small a soldier could almost carry it around on his back if it ran out of fuel or he had to stop the engine as the noise would alert the enemy. It was built and designed in the UK by Brockhouse, there called "Wellbike" (for the military) and "Corgi" when released to the public after the war. (A Corgi is a small breed of dog, popular in the UK.). The idea was that Allied paratroopers would use it to be more mobile after landing. After landing and hiding their parachute, they would rush over to the nearest Wellbike, unfold the handlebars, pull up the seat post, turn on the ignition and start the bike and ride off into enemy territory. Presumably not good for sneaking up in a Commando raid as the engine noise would give one away and your hands would be on the handlebars instead of your weapon. Recently (Fall 2012) a 1947 Papoose came up for sale on EBay, along with a WWII publicity photo of how it would appear (as a Wellbike) on the battlefield. The soldiers here appear to be wearing American helmets and uniforms. Notice the motorbike is so small it could almost fit in the sidecar of the black Chief outfit shown below. Just like a mother carrying a Papoose the big Chief could carry a Papoose in it's sidecar to use in case of a breakdown, accident or running out of fuel. The Corgis and Papooses came with 98 c.c. Villiers engines. If anyone knows if these ever saw actual combat service or were just an experiment, please let me know. I see no reason why they would not work just as well today. (B&W photos courtesy of Classic Bike magazine, always a great "read" for vintage motorycles.)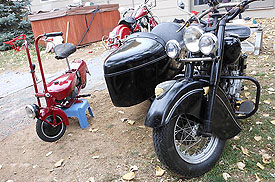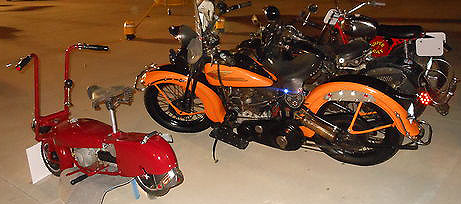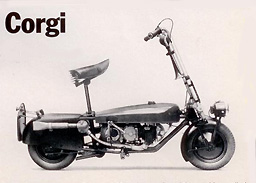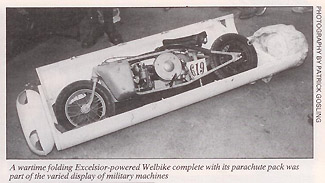 Post WW II
Even rarer (and much faster) than the 841's was a secret factory experimental four built supposedly in 1941 but probably around 1949 since based on the Arrow and postwar Scout (later called Warrior) engines. Front end also looks Warrior as does rear suspension. Shaft drive probably taken from the Model 841 and probably the 4 speed foot shift used on the 841. If it has four Arrow OHV cylinders inline, displacement would have been 854 cc. but the posters and other authors list it as having 880 c.c. The postwar Scout was marketed as a 440 so this job would have been listed as an 880, but postwar Scout was really only 426 so this would have been 854, still lots of power for a four and who cares about 26 cc? This lean machine looks like it would have been fast and had good handling. This was far more advanced than anything Harley produced until their V-Rod. Another "too bad/what if?"
I was thrilled to see the actual machine at the Rhinebeck AMCA meet in 2007, and have loaded my photos into this website - the More Old Indians page. The bike is owned by the AMCA but members are not allowed to touch it let alone ride it. I guess the club directors are afraid someone will drop it and damage it, over-rev it and harm the engine, or ride off with it. The value is literally priceless.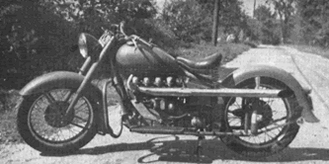 Indians at Hollister circa 1947, and Sturgis early 1950's
You may have heard of the Hollister California 1947 event (see my song about it on the Music page of this site) where rival outlaw gangs supposedly battled, raped, pillaged and took over the town. (The reality was not nearly as bad, but the media of the time, and the later 1953 "Wild One" movie exaggerated and dramatized.) Actually there were serious AMA races going on in Hollister each year but in 1947 the drunken outlaws came mainly to entertain themselves and the local townsfolk with shenanigans on the main streets, and contribute a lot of money to the local economy, mainly the bars, some of which allowed these two-wheeled customers to ride right inside. In the movie gang leader "Johnny" (Marlon Brando) steals the main race trophy and straps it to his Triumph without having even participated in the race. Below left is a photo from the website of 13 Rebels MC (one of the clubs who attended Hollister and still exist) showing club member Arden van Syckle (could that really have been his surname ?) posing with the actual trophy from the main 1947 race. I guess unlike "Johnny" he rode hard and won it, but certainly not on that 1946 or '47 Chief which must have been his daily rider. Note the 18" diameter front wheel which back then was as common as the 15". Nearly all modern restorations use the fat front wheel. Incidentally, the character "Chino" as played by Lee Marvin in the movie was based on "Wino Willie" of the Boozefighters who had been a member of the 13 Rebels but somewhat ironically got kicked out for his rebellious antics in 1946, which type of drunken behavior he continued at Hollister the next year. So this is a case of art (the movie) imitating life, but then life imitating art as countless individual riders and outlaw clubs sprouted up modeling their behavior on what they had seen on the silver screen. Here is a link to www.13rebelsmc.com When I recorded the song "Hollister, 1947" (go to BIKER MUSIC page of this site) I had never heard of the 13 Rebels (sorry guys), so the song only mentions the Boozefighters and another club which became the Hells Angels in 1948.
Below right is a shot of the now famous Sturgis North Dakota annual rally (now mainly a Harley event) showing a 1946-48 Chief in the foreground. Judging by the Chrysler to the right, the photo dates from about 1952.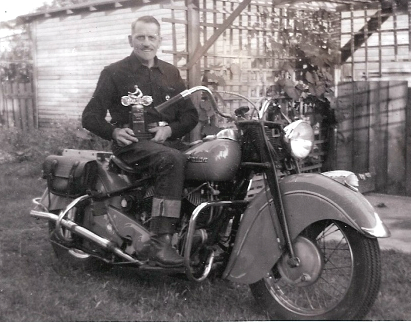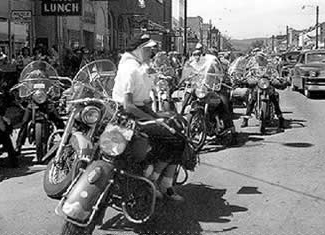 A Bicycle Built for No One
In 1948 and for a couple of years after, Indian imported 3 speed bicycles from Britain and called them Indians. Evidently this venture was a failure as these bicycles were and are rarely seen. However this may make them valuable nowadays to collectors.
Big Base Scout Racers
Many Indian riders were irate that there was no V-twin flathead Scout for sale after the war, and privately owned Scouts continued to win races for many years after the war. Some privateers put Chief flywheels in to get 950 c.c. (57 CID) and a lot more power out of their racing or souped up street Scouts. As mentioned above, the factory did relent slightly in 1948, and produced 25 - 50 racing Scouts stamped FDH, but commonly known as the Big Base Scout or the "648 Daytona" as Daytona Florida was where most were raced. They performed extremely well in their class (Class C) and continued to win races for the next six years! In fact at various other types of races across the USA, racing Scouts continued to do well and even win up to the 1970s! But what was the point if no mass produced versions were made for sale to the general public? (Yet another lost sales opportunity and management blunder.) Visit www.indianscoutmotorcycles.com to see a photo of a 648 racer.
Incredibly in 2018 (exactly seventy years later!) a small company is remanufacturing fifty of these race engines. They look stock but are all new with improvements to make them stronger and a bit faster. Maybe the manufacturer will take out an ad and provide more info, or anyone who buys one could send photos of their bike with the new Big Base engine.
The Outboard Motor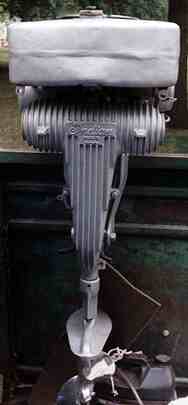 A much more expensive venture, making and selling an outboard boat motor (called the Arrow) sank in red ink not because there was anything unreliable or unattractive about the engine, but it was a planning and marketing error because it was too big and heavy for fishermen who wanted to troll and too small a displacement for people who wanted to tow skiers or just zoom around. Here is a photo of an Arrow outboard motor courtesy of Allan "Zippy" Lowson.
The series of blunders continued when Indian also tried making suspension dampers for cars (shock absorbers) but somehow that flopped too. (One is reminded of Harley's failure with golf karts and recreational trailers some years later.) One might have thought that with experience in shock absorbers Indian would have come out with a Swingarm rear frame. Maybe because their shocks were no good they did not pursue it? Most likely it was never thought about, as swingarms did not even come on most British bikes until the early 1950's. The then-new Indian Warrior and postwar Scout bikes used non-hydraulically dampened plunger rear suspension (like on the Chiefs but longer thinner springs, copied from the model 841) which was cruder than the typical oil dampened British plungers of the day. Harley did not come out with a swinging arm rear suspension setup for its Big Twin until 1958 (although it had it as early as 1952 on the K model, it's version of an English sports bike.)

The WARRIOR Debacle
Continuing the saga around 1948, Indian was in such bad straights that Paul DuPont sold it to a manufacturing group headed by one Ralph Rogers. Rogers was so dedicated he put a lot of his own money (like, millions) into Indian. He had the right ideas - fresh modern designs, get away from the oily outlaws and police market into selling motorycles for the whole family (just like the "You meet the nicest people on a Honda" ad campaign of the 1960's and '70's). This resulted in the "Torque series" inspired by English designs similar to Edward Turner's vertical twin Triumph. But the resultant 213 c.c single Arrow and 426 c.c.twin Scout (two Arrow cylinders side by side) were rushed into production without proper testing and assembly and were junk. (wheel rims so narrow tubes and tires would not fit, and so thin they collapsed, main bearings failed, magnetos failed, gears would not shift, the valve gears failed.) Also they were too small to compete with Triumph, BSA, Norton, Matchless and Royal Enfield (500 and later 650 c.c. by the end of the decade). Then the British government devalued the pound sterling making the English imports a lot cheaper than the Indians. By the time Indian had enlarged the twin engine to 500 cc. and gotten some of the bugs out (1950 and 1951), and renamed the Scout the Warrior, it was too late and 1952 was its last year.

Below are some photos I took of a maroon 426 c.c. Scout at the Paris rally, plus an exploded view of the engine showing it to be similar to a Triumph twin of that era, but with the timing side on the left and primary and final drive on the right (maybe because the Chief and Scout had final drives on the right?). Following are a shot of a blue 1950 500 cc Warrior, then a 1950 Arrow 250 in teal. Then some shots of postwar Scouts or Warriors including a black Warrrior or Scout that was on display at the AMCA Rhinebeck meet in 2007, then a blue Scout or Warrior seen at Oley PA 2012 with solo seat and chromed horns, then another black one seen in a trailer at Oley. Check out the "More Oldies" page of this site for police Chiefs and trikes.

| | |
| --- | --- |
| Although the Warrior was a mechanical and sales flop it did have one moment of shining glory. It won the 1962 Greenhorn Enduro - a 500 mile desert race. The bike was at least ten years old by 1962, and the race was so tough that of 170 entrants only 23 finished. A large part of this success was the famous rider: Max Bubeck. However he did have an aftermarket swingarm rear suspension kit (sold to update British bikes) attached to the Warrior. Here is a photo of Max after he won the 1947 Greenhorn Enduro using - incredibly - an Indian Four (the last type of machine anyone would want for an enduro)! | |
With losses instead of profits, the proposed 854 cc. shaft-drive Four (consisting of four 213 cc. Arrow cylinders) had to be abandoned. Another sales failure was the 250 cc. single cylinder, 3-speed flathead Brave. It was cheap but very slow and some were unreliable due to bad batches of metal. However other experts say it sold fairly well and the bad batch was small in number. I am not sure but I think these were made in the UK (it had a British gearbox). I do know they were only sold in the US from 1950-53 inclusive and then in the UK from 1954 on. As for the noble Chief. there wasn't enough money to create a replacement for it or even make major improvements.
The "VINDIAN"
Actually Indian had a relatively inexpensive solution to the big V-twin problem literally in their hands in 1949, but with their usual tendency to snatch defeat from the jaws of victory they failed to follow though with it. In 1948 they had sent a stock Chief to the Vincent company in England to see if the powerful, modern Vincent V twin engine and gearbox would fit in the Chief rolling chassis. The Vincent engineers got to work and accomplished the task in very short order. The OHV engine and its 4 speed footshift gearbox barely fit, but they did fit with no major frame changes. Even the stock generator drive setup with its belt and tin cover fit! The exhaust routing was not at all unfaithful to the overall Chief styling. In fact having a pipe on each side really helped the Chief's "bad side" (the left side). At a glance you would not know that the Vincent engine did not always belong in the Chief. Although the fastest Vincent engines - the Black Shadow and the rare Black Lightning racer - were not suitable for ordinary use with high American mileages, (and our tendency to avoid routine preventive maintenance ) the Rapide version was reliable enough for that situation. Although mild compared to a Black Shadow, with its OHV design and bigger bore, shorter stroke and twin carburettors the 1 litre Rapide produced 45 hp, more than the 40 hp of 1.2 litre Chiefs. (The later 1300 cc Chiefs made about 50 hp.) The English machine had a 4 speed foot shift gearbox. Both the English and US companies tested the prototype and found it satisfactory, but sadly nothing more was followed through with. In my opinion, this was a mistake for Indian, as the poor sales of the old fashioned 1950-53 Chief showed (it was competing with the Harley OHV Knucklehead since 1936 and as of 1948 the modern looking Panhead), and also a mistake for the Vincent company which died two years after Indian. If the Vindian had gone into production both companies might have done well for years thereafter. The Black Shadow version of the Vincent was much faster than the OHV Harleys of the day, so the Rapide could have been ugraded to semi Black Shadow specs. There would not have been a lot of extra cost involved in producing the Vindian since everything except engine mounts, exhausts and brackets were already being produced by either company. The main hassle would have been shipping the engines across to the US by sea, which was not a big obstacle given the huge 1960's imports of British and Japanese motorcycles. Visit the Modifieds page of this website to see a 2012 photo of an actual Vindian that lives in California, custom built by a member of the Antique Motorcycle Club of America.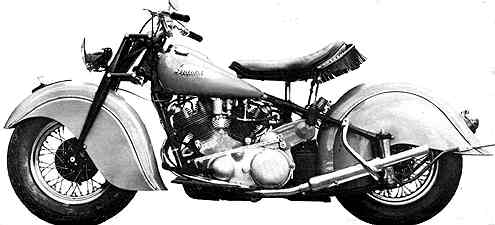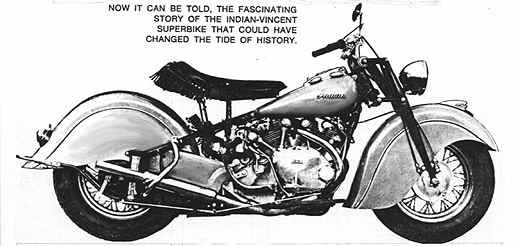 For a larger article on the Vindian and photos of a replica by Wigwam Engineering of Australia see the Oct. 1997 issue of Classic Bike magazine.
Final Changes to the Chiefs
Indian cancelled the flathead Scout after WWII, considering it obsolete. (But it stupidly offered nothing to replace it for over three and a half years until the new Scout/Warrior came on to the market.) The fans were outraged. The only significant changes to the 1946 Chiefs compared to the 1941 models were a new front end copied from the military 841 model. There were improvements in the fork for 1947, including replacing the very dangerous 1946 bearings. The 1947 ammeter was strangely installed at a 45 degree angle. Although at a glance the 1948 looks just like the 1947 which looks like the '46, there were several changes. For 1948 the ammeter was replaced by an idiot bulb so the instrument panel was more oval than triangular. Also in 1948 a plate was installed at the bottom inside of the crank to splash the oil around better, a very useful improvement which can be retro-fitted. The ratchet dogs on the kicker crank were changed to ball bearings to reduce the noise and maybe save some money - they do not work as reliably though, sometimes causing sudden slippage wrecking the rider's knee. The speedometer drive was moved from the rear wheel axle to the front brake plate. Teeth were made in the inner rim of the front brake drum and the new drive was much more reliable (assuming the drum does not get heat warped). The shorter cable routed into the speedometer from the front rather than the rear, a much "cleaner" setup with less chance of a broken cable. This required minute frame changes. The oil pump was switched from iron to aluminium, making it lighter but less durable. The British BSA factory made the same "improvement" in the late 1960's and similarly BSA experts prefer the earlier type iron pumps, which are being remanufactured as replacements, just as they are for old Indians. So the "cognescenti" prefer a combination of 1947 and 1948 parts.
During 1948, Indian decided that the Chief was obsolete, and were putting nearly all their money and efforts into the Torque series of English style lightweights, so production ceased. (only about a hundred Chiefs were built in 1949, presumably being the same as the 1948 models or left overs sold in 1949?). Again the fans were outraged. Unlike with the Scout, however, Indian responded to public demand and brought back the Chief in 1950. The two big improvements were telescopic-hydraulic forks on the front, which required more ground clearance which the Chief needed anyway, plus increasing the engine size by 100 cc or six cubic inches. (via stroking). In a book I read that the "lower slipper brackets were shortened by 1 inch to increase ground clearance" but I still cannot figure out what a slipper bracket is (does not appear in parts books) so not even sure if that authur meant at the rear. All I can tell is that the rear springs used 1940-45 (old style front end) are not interchangeable with the 1946-53 ones. Indian also tried to offer a foot shift, hand clutch for these improved Chiefs and even told dealers it would be available, but was unable to perfect the protoype and it never went into production. After about two years, the factory made some more improvements for the 1952 and (virtually identical 1953) models. (A few of these may have come in 1951). These included a) a headlight dimmer switch on the left footboard, like on car floorboards of the day, b) slightly cut down front fender mounted lower to clear the c) relocated horn, d) new exhaust (pipes and muffler), e) a "bench" seat, f) sheet metal behind the headlight, g) metal cover over the distributor and oil pump, quite pretty and "cleaning up" that area - see photos of Bob Stark and Chas. Mahoney's 1953 Chiefs at the bottom of this page, h) an English Amal carb, i) sealed primary drive (no longer sharing gearbox oil), j) longer kicker crank, k) slightly changed fuel tank, l) throttle changed to right side and shift lever to left if rider desired. (m) a "deprovement" to coin a word: The company regressively had to drop the front wheel drive speedometer (used 1948 to mid 1951) and revert to the rear wheel drive speedometer. This was probably to save money, but it seemed they no longer had the pre 1948 brake covers (later ones had a hole in them for the speedo gearbox) so n) they had to plug the hole, making it a bit unattractive. Similarly some say the new exhaust was merely a cust cutter way to use up surplus Warrior mufflers. (Some say the low hung muffler creates a problem on right turns.) I do like the look of the later exhaust as it allows saddlebags to fit much better on the right side (tail pipe no longer in the way) and it looks more modern and is very similar to the 1970 on (alternator equipped) Harley Shovelhead exhausts. (When I first saw the new "cone" Harleys I thought "That exhaust looks just like 1953 Indian".) These 16 or so minor improvements to the Chief did nothing for orders or sales. By 1949 Indian had "blown it's wad" on the doomed Torque/Warrior series and did not have money to seriously update the Chiefs with OHV or a 4 speed synchro-mesh gearbox, both of which it really need to compete with Harley in the early fifties whose Panhead model (OHV, 4 speed) was available starting in 1948, featuring its own telescopic-hydraulic front fork in 1949. (For details and images see "1955-85 era" page of this site). In fact Harley had come out with the OHV Knucklehead as early as 1936 although their less expensive flathead big twins also sold well until the US entered WWII. Thus few of these 1950-53 Chiefs were sold. Many 1952 models sat in the showrooms and had to be renumbered as 1953's to make them seem new, and some were sold at cost or less by dealers just to get rid of them. Production of Indians ceased in the Spring of 1953. Only about 500-700 1952 models were made and the same for 1953. Ironically now a perfectly restored 1952 or 53 Chief is worth over US$30,000 and a 1950-51 a bit less. Many connaisseurs prefer the 1950 and '51 Chiefs over the 1952-53 as the earlier ones have the front-wheel drive speedometer and the earlier upswept exhaust and the earlier American carburettor (inferior in performance to the Amals used on 1952-53, but more reliable for high mileages), plus bigger swoopier front fenders compared to 1952-53. Also some do not like the "bench" seat on the 1952-53 models (albeit solo seats and the earlier type dual Chum-Me-Seat were available as options in 1952-53).

Below are rare photos from the factory of the last batch of Chiefs being assembled: In the top and bottom of the three photos we can see a civilian bench seat version in the foreground, in the first two photos the upper row of Chiefs are police models (sirens, solo seats, probably red NYC machines). In top photo worker is installing footboard. In middle photo the circle is an optical illusion caused by the black crashbar and the black clutch treadle. In the bottom, photo the bike in the foreground still needs its clutch treadle, footboard and crash bars installed.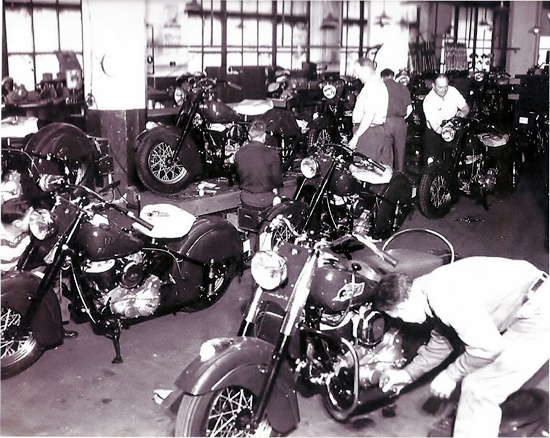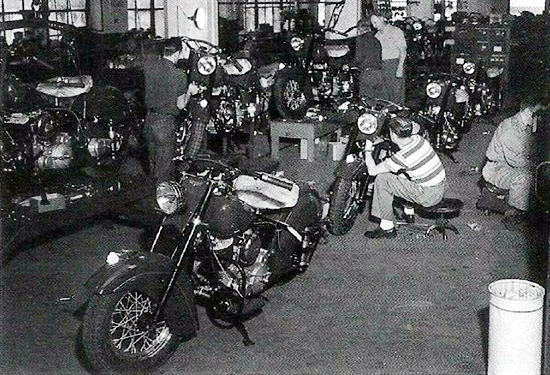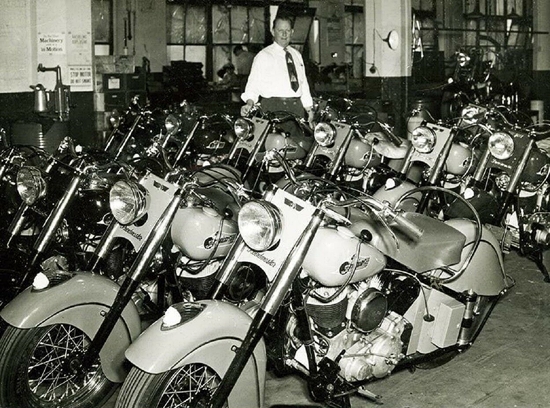 Below is a 1953 New York City Police Dept. Chief with the then optional solo seat.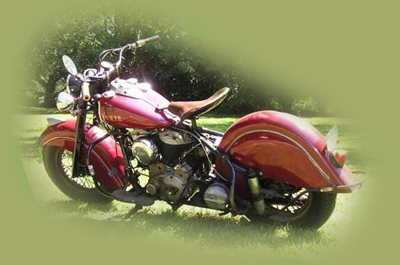 Below is a video of famous California restorer / collector Bob Stark's collection.
From the title it appears it was to be auctioned off in 2010.
Check out the rare Sammy Pierce models.

Next in the vertical Black and White photo is restorer Bob Stark back in the 1970's with a trio of Chiefs: a 1950 at the top, a '53 in the middle and a '47 at the bottom closest to the camera. Study these photos to see the differences.
For more info and lots of videos and "before and after restoration photos" of 1930-53 Indians including Fours and advanced prototype Fours and trikes and police bikes go to the navigation handlebar icon at top of page and click "More Old Indians'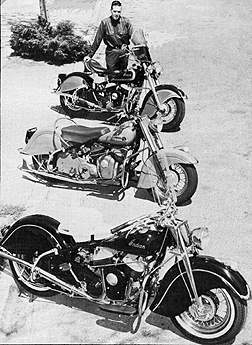 HARLEY "Big Twin" v. INDIAN Chief
Owner Bob Murray of the 1941 Chief shown earlier also had a 1941 H-D UL (1200 c.c. sidevalve) so was in an ideal position to decide which 74 CID flathead was better. He chose the Hog, hands down. However I had a '47 Chief (same as the '41 Chief except for better and lighter forks) and a 1941 H-D U, and I say the Chief is the smoother, lighter, better bike. The Indian had a plunger rear frame while Harleys were rigid up until 1958. According to Murray and Bob Stark, a stock Chief was slower than a stock Hog, but a slightly souped up Chief was a lot faster than a stock Hog. It seems to me this is missing out on the fact that flathead Harley 74's came stock in 3 stages of tune: U, UL and ULH. So would all three beat a stock Chief or just one or two of the Harley models? And was the Chief a standard or faster Bonneville model? My model U was a real slug, perhaps even slower than my worn out '47 Chief. I did not own them at the same time, about three years apart, so hard to compare. You might think that Harley's having a 4th gear would give every Hog an edge over every Indian but in my experience the Hog's 4th gear was no advantage over the Chief's 3 speed because the 4th gear was only a tiny bit higher (about 500 rpm) than 3rd. Also it took longer to change gears on the Hog. Brakes on both bikes were equally pathetic, and going around tight corners at any speed was equally a challenge on both. I agree with Mr. Murray that the old sidevalved Harleys were easier to work on.
The Myth? of the 1955 Police Chiefs
After the factory closed in 1953 according to one rumour it briefly re-opened a few months later to assemble 50 Chiefs ordered by the New York City police department, which favored Indians over Harleys. (You can see some early fifties NYPD Chiefs in the Frank Sinatra movie "New York, New York". Elsewhere in this site is a photo of an unrestored one. The NYPD insisted on Indian Red paint on its motorcycles). According to the rumour a small crew under the Bankruptcy Receiver's approval assembled fifty Chiefs for the police and an extra five for dealers. People who were at the factory and warehouses in 1953 including Emmett Moore deny the story, and according to a reliable source known to this author one of the allegedly 1955 Chiefs (not the one described below) has an engine number dating well before the 1953 Chiefs. Moore in a 1994 interview with Jerry Hatfield said that the factory ran right out of parts early in 1953 and despite demand from dealers simply did not have enough parts to make any more than five hundred or so 1953 Chiefs. They couldn't get the Linkert Company to build 500 more of the old carburetors so had to use (actually more modern and efficient) English Amal carbs. (Since Harley was still using Linkerts this could have been due to Harley pressuring its suppliers not to sell their products to Indian.) Little bits like a chuck that holds the helper spring on the spring-post mounted dual saddles had to be purchased at very high prices. Walter Brown, a manager during the 1950's confirmed with Emmett Moore that the last Chiefs were assembled in early 1953. Among the last were those made for the NYPD, although he puts the number at 75. One may suppose there is a chance that Moore and Brown were unaware of the small crew working for the Receiver two years later and that the crew could have used unsold stock retrieved from dealers, and the police bikes did not need the helper spring bit. I wrote to the NYPD about this several years ago and their reply (posted in a much earlier version of this website) indicated they simply had no knowledge or records of events so long ago. However early in 2013, I received info from a reader of this site that there really were a few Chiefs made circa 1955 and that his grandfather was a dealer who got one (note the mention above of five to dealers). The grandfather bought one of those bikes and the family still has it! (He sent me photos of the bike when nearly new, and now).
Here is what he wrote:
Greetings. I stumbled upon your website today and explored it with great interest. I was particularly interested in the "Myth?" section regarding the last of the Chiefs and the fabled final order for the NY State Police. My grandfather had been a long-time Indian dealer (from 1926 on) in [location deleted for security reasons - no use contacting me to ask as bike is not for sale and I will not reveal the writer's name or location unless he gives me permission] and had a very close relationship with the Indian factory guys in Springfield. In his shop, throughout my life (and my older brother's life) there sat a Chief Eighty in the corner that had always remained covered and unridden (although we'd kick it through regularly and start it every few years). I can attest to the fact that the bike was never touched, never modified and never molested. The story, from the time I was a kid until my grandfather died in 1998, always remained the same as my grandfather told it. We, along with dozens and dozens of other folks whom granddad trusted, were familiar with bike and with the story. He indicated that after production had ceased, there had been an order placed for a run of Chiefs for the New York police. When those machines were produced, the story was always that a friend of his at the Indian factory had contacted him, told him that they had enough parts remaining to build about a dozen Chiefs and asked him if he wanted one of them. He was told that his choices of equipment were limited due to depleted supplies (i.e., I remember him saying that he could only get black painted handlebars). He always preferred police equipment so he was able to get much of what he wanted anyway — including the oversize police generator and battery, solo seat, and he was able to get the Linkert carb and the traditional Indian handlebar controls/internal cables instead of the Amal stuff. In essence, the bike is a police model in civilian paint. It was painted tangerine, a color my grandfather always disliked. At the same time, he bought a spare frame and engine. The spare engine had never been started and was still mounted on the shipping pallet that came from the factory. He created a tool that would allow us to turn the engine over by hand just to keep things lubricated and moving. Regrettably, he allowed someone to talk him into selling them that engine back in the early 1990s. Supposedly it was destined for a museum somewhere in Ohio, but I have no idea if it actually wound up there.

As for the Chief, it resides in my home (I've attached a picture of it today and one of the shots of the same bike in the shop back in the mid 1950s). The bike has less than 3,000 original miles and still sports the original Dunlop Gold Cup Universal rear and Gold Cub ribbed front tires (not available anywhere as reproductions to my knowledge). The only thing not original on the bike are the spark plugs, spark plug wires and the header pipes. ....

I have pictures of the bike that extend back to the mid 1950s, showing that the bike has remained unchanged since then. I also have a picture of another virtually identical Chief that was taken in the mid 1970s when my grandfather and I were at an antique motorcycle event together and saw the virtual twin of my grandfather's bike — even down to the tangerine color.

Most folks who see this bike or who we've approached to assess the value claim that the bike is "not a '53." They insist that the bike has been modified or is simply "incorrect." The fact is, it is not incorrect — although it is admittedly different than typical '53 models. I have no reason to fabricate a story and no reason to pass this bike off as something it is not since our family has no interest in selling the bike.
The Final Years: British Takeover
See webpage "1955-85" era of this site, which actually starts in 1945 and also discusses the competing Harleys.
Finally is a tribute photo to Ontario Indian guru, the late Charley Mahoney.

THANKS TO EVERYONE WHO HAS SENT PHOTOS OF THEIR INDIANS, STORIES, INFORMATION and CORRECTIONS. New material is always welcome and appreciated. If anyone recognizes their bike in this site please let me know so I can put your name in as owner. email author and web designer
This site is not the official site of the makers of the current line of Indian motorcycles, POLARIS INDUSTRIES - They are at www.indianmotorcycle.com